I can't quite believe it that in just three more sleeps the big day will have arrived.  Christmas is so loved and celebrated in our home and we always have the same traditions and rituals we follow, which now that M and J have arrived the rituals and the magic are getting added to each year.  Of course as a busy Mum there are always ideas you never seem to get around to, like watching Carols from Kings on Christmas Eve with a Baileys in hand!  It gets to about Easter each year and I have to delete it unwatched from the TV box.  The older M has got the more I know that the year I get to watch it on Christmas Eve will be the year the house has gone quiet.  The year the hustle and bustle is not quite so and quite frankly I don't think id ever be ready for that.
Tonight has seen me finish the wrapping up for another year, which I always feel sad about, but now I'm looking forward so much to seeing the look on M and J's little faces on Christmas morning.  The excitement is already palpable and the air is starting to feel different as it always does at Christmastime.
Some years you feel like you have managed to get hold of some really nice presents, they don't have to cost the earth and are quite often as hubby calls them 'chuck-ins' but 'chuck-ins' that put an extra little smile on someones face or something that adds to the fun and magic in the house.
This year these are some of my favourite things I have bought.
These slipper socks are proof that stocking fillers can be cute and
non-expensive. They came from Primark and were just £2.00!!
Carrying on with the puppy theme only mums with 5 year old girls would appreciate the cuteness of this Chi Chi Love dog.  I found this browsing through the Tesco catalogue.  Used my saved up vouchers and managed to grab a bargain.  I can picture M on Christmas Day off to my Mum and Dad's, dog and bag in hand!!!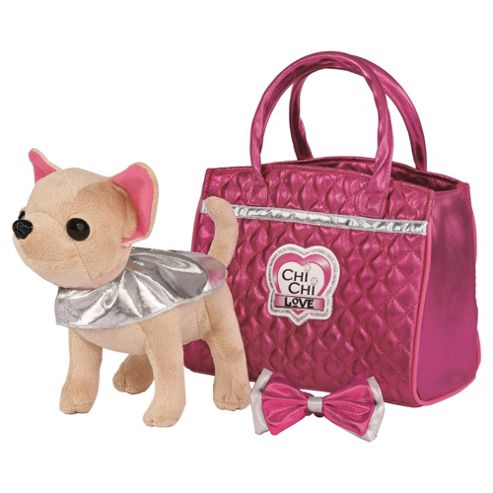 On Christmas Eve me and hubby always have a little buffet for tea after M and J go to bed, this year I'm thinking we will have it together.  Hubby picked up these from Tesco and they will be perfect.
Lastly these are one of my favourite purchases this Christmas.  For years we have had the same tree, with the same multi coloured lights and the same decorations hanging on it.  Quite a few were special but last year we both agreed that we needed a change.  The tree needed updating, infact it needed replacing altogether which we managed to do in the Black Friday sales.  Stepping away from tradition i've gone all one colour on my tree.  There's warm white bulbs and a mix of cream and champagne decorations. The pictures dont actually do them any favours, they are lovely.
The large champagne coloured baubles are glass and are actually a lot lighter than in the picture, they have glitter and sparkly detail and shimmer against the fairy lights.  They also came from Poundland!!! As of yesterday they were still in stock.  The baubles on the left are decoupage style from Next.
Merry Christmas and Happy Shopping xxx